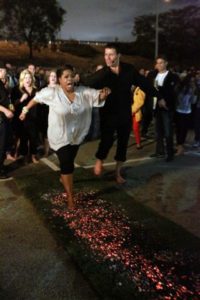 To experience  Tony Robbins UPW – Unleash The Power Within as a crew member behind the scenes was an experience I will always remember. We did not get a chance to speak with the big man but managed to get a high five, big hug and a personal thank you while on stage for our contribution.
Over 200 dedicated volunteers spent 5 days supporting the Tony Robbins UPW event in Sydney Australia only one week ago. To be part of the support crew of 5,500 participants at this event was a real eye opener. The dedication of each crew member was outstanding. Nothing was too great or small whether it was 6-30am in the morning or 2am in the morning. They all worked to their maximum capacity to ensure that everyone attending the event had an unforgettable positive experience. Well done😊
I would like to share with you just a few of the takeaways that I received from attending this event.
1) The cohesiveness of all crew members was absolutely amazing. On the morning of our arrival there were many new faces and others who had crewed on previous Tony Robbins UPW events. The bonding was almost instantaneous as we were all bubbling with excitement and anticipation as to what we were up for. Throughout the whole event we were like one big family and we were all watching out for each other. This type of bonding allowed us to perform at very high levels to achieve all of the outcomes for UPW. I still remember one of the mantra's "We don't stop when we are tired, we stop when the job is done".
When I reflect as to why we all bonded so quickly and became like family was the fact that one of the prerequisites to be a crew member was you already had attended a UPW event previously. Working with people who lived a similar mindset was a powerful way of producing awesome results.
Team building and oneness of purpose can produce hug results as we have seen with companies like Apple, Google, Facebook, Amazon, Virgin etc…
2) The importance of keeping yourself in a Peak State can't be over emphasized. This is something I'm already very aware and teach my clients as one of the first principals when they coach with me. Our bodies are very resilient and while we are in a peak state we always make better decisions. While in a peak state we have access to all our internal resources and make decisions based on what's right for our lives rather than how we feel. The crew members worked up to 18 hours a day and used the peak state triad to perform at such productive levels. Well done😊
3) To be part of the experience of over 5,000 people walking across hot coals (1000 – 1,200 deg) as a metaphor to smash limiting beliefs was absolutely an inspiring vision. Performing a task like walking on fire (hot coals) is something that most people would think (belief) impossible. When you achieve walking on hot coals it smashes that belief. It also gets you thinking about what other beliefs do you have in your life that if you smashed them you could be living an awesome life…Something to think about…I remember Louis Hay saying that "We create many of our beliefs when we are very young and then go through life creating experiences to confirm those beliefs, that's why for most of us the past = the future"…Changing your beliefs are fundamental to changing your behavior and results. Well done 😊
When applying all that Tony teaches the crew members were able to be wonderful examples of the effectiveness of his core message.
The UPW was a total immersion, a paradigm shift and inspiration to continue to surround myself with like mind people to learn, grow, contribute and add value.
Hope to see you at the next UPW coming to Singapore in February 2018 or UPW in – Sydney Sept 2018.